It's easy to make big claims, but we think this one is justified. We're pretty sure no other call centre in EMEA can match our expertise in B2B technology, nor our capacity in terms of local language engagement.
Our 100 Sales and Marketing Executives come from 30 nationalities and speak 16 languages. They're supported by a dedicated training and coaching team of 10 multilingual technology experts, who centralise resources to ensure campaign consistency across markets.
This means that we can quickly roll out global telemarketing campaigns at scale to support your B2B lead generation activity.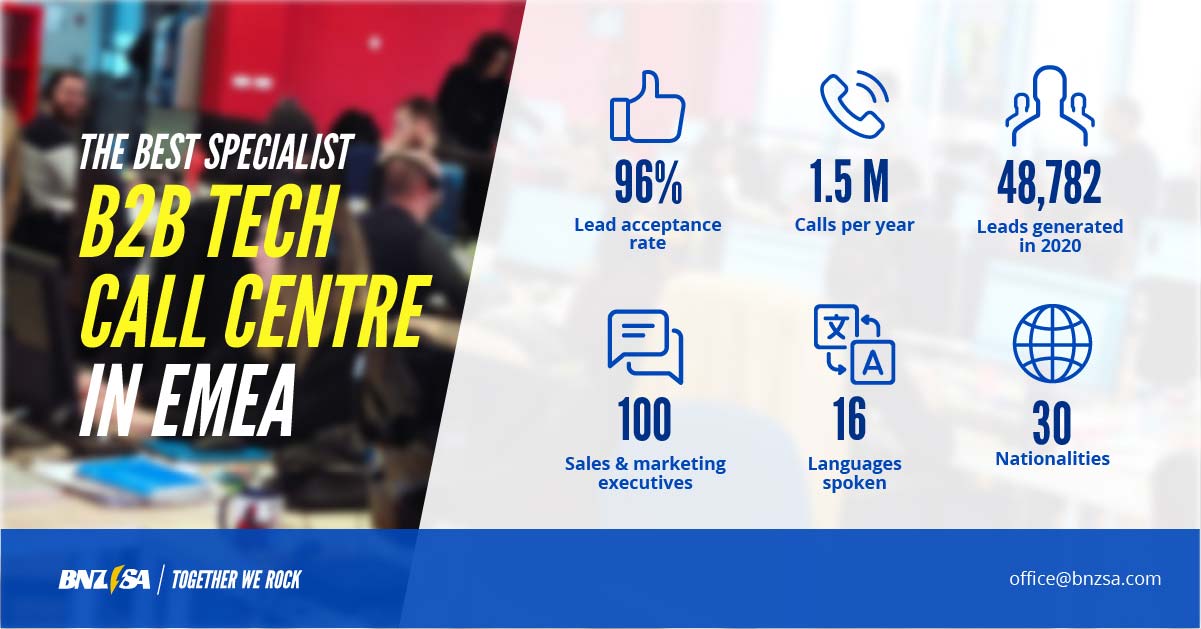 The highest quality B2B leads
We're out in the market all day, every day, racking up 1.5 million calls per year. But it's not just about the dials, we pride ourselves on the quality of our work:
We have a 96% lead acceptance rate
Of the 78,900 conversations we had in 2020, 48,782 resulted in a positive outcome – that means a valuable insight, consented opt-in or BANT lead
For our signature Warm Handover process, we have a 70% lead to revenue conversion
We believe this quality is in large part due to our native language capability plus the deep expertise we have in B2B technology marketing and sales.
Local language call centre capability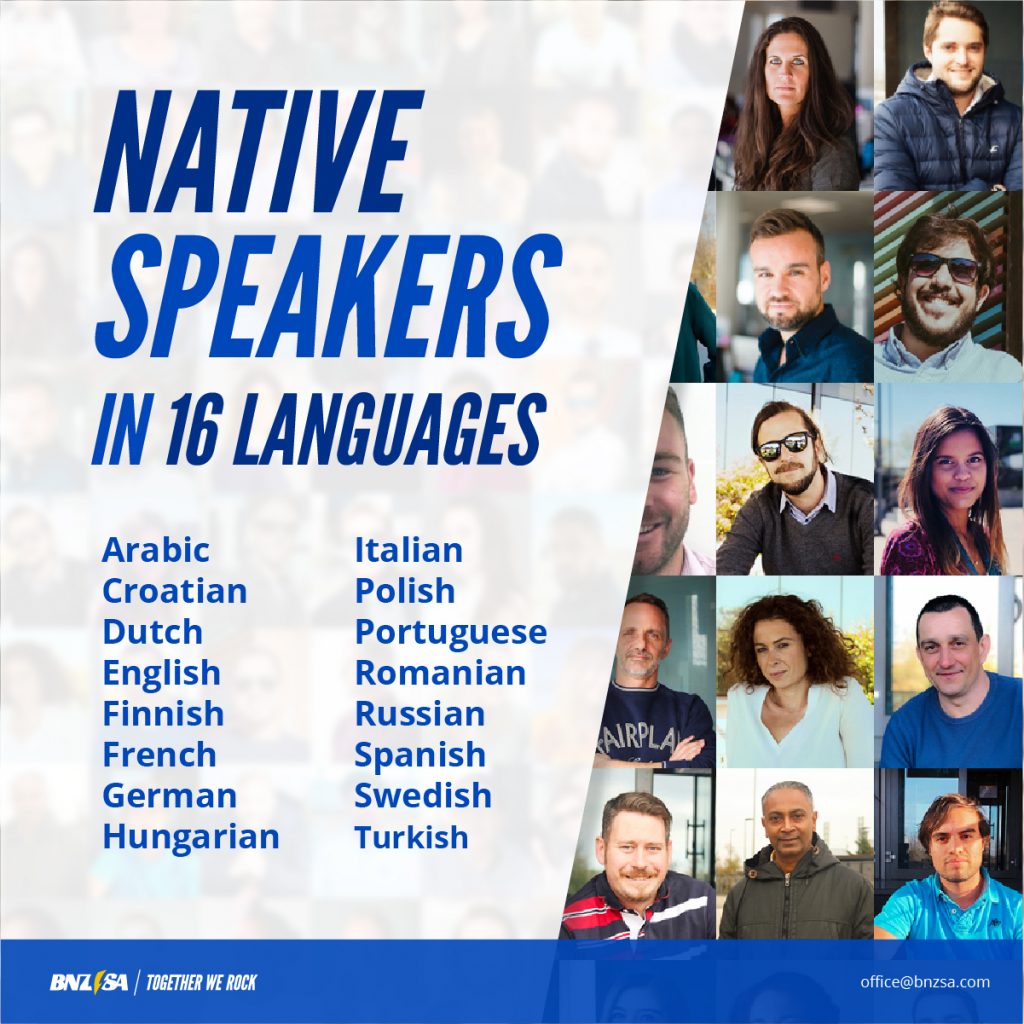 For the 16 languages we offer, all of our conversations are conducted by native speakers.
Our English speakers are British, Irish and American; the Spanish speakers come from Latin America as well as our home base here in Spain; our German speakers include Germans, Austrians and Swiss; and we have French speakers from all over the Francophone world.
This means that whatever your market, we can provide not only a native speaker but often even a regional specialist who can build a strong connection with your prospects. We cover markets globally; increasingly doing more business far beyond EMEA, including in the US and Latin America.
Training for success
Yes, we're a call centre, but our goal is to become a truly integrated part of your sales and marketing efforts.
We generally work with a Business Development Representative (BDR) model, meaning that you'll have dedicated support from a single agent, who will quickly become an expert in your product or service. In addition to any materials you provide, they´ll also receive in-depth training on the technology, as well as on the marketplace, and how to approach key decision makers.
We have 1 coach for every 10 agents, who support with scripts, strategy and building connections. This high level of one-to-one support means that agents get feedback on a daily basis and can keep improving their pitch. We also work with a Natural Language Processing (NLP) AI which monitors compliance, tone and language in real time.
Depth of expertise
We've been specialised in the technology sector since we started 7 years ago. Whatever your product or service, we've probably worked on something similar or at least related. Our trainers will be able to incorporate your materials into our programme so that agents can be up to speed as quickly as possible.
Current campaigns include:
PC fleet and workstations
Enterprise servers and cloud
Data centers
Smart buildings
ERP providers
P2P automation and other finance and expenses software
Learning management platforms
IP management software
The BNZSA customer experience
You'll have a single point of contact to manage your campaigns across all markets. They'll provide regular reporting as well as weekly or monthly calls, so you can be sure of complete transparency about performance.
If your priorities change, our in-house capacity means that we can easily pivot to new products or even new geographies. Our telemarketing team is completely integrated with our data, intent and digital services, so we can layer on additional elements to support your campaign.
We think this proposition is pretty unique in the market. As far as we're aware, no other B2B agency has such a globally focused offering with such a strong specialism in technology, backed by significant investment in quality assurance.
Would you like to learn more? You can explore what we offer here, or simply get in touch directly now. We'd love to see how we can help you.
To learn more, you can reach out to Cristina Biet, our Chief Production Officer.