By Paul Briggs, Director of Global Corporate Development
To hire and retain the best talent in the future it will not just be about overall compensation, it will also have to address growing themes of work /life balance, remote and flexible working, and other hygiene factors.
Ultimately, these trends may force hiring managers and chief strategy officers (CSOs) to completely rethink how they hire, manage and workplaces and employees, especially when more and more companies are looking to adopt a 4-day week for staff without reducing current pay.
Naturally, the main concern is how to adopt to these new working trends without affecting pipeline and ultimately revenue targets, especially when analyst Forrester notes that traditional "leads-based "contributions have declined in terms of contribution to overall revenue results performance.
But instead of hoping that short-term re-orgs, layoffs and downsizing fixed assets will solve the current and future challenges companies are facing, many industry commentators are suggesting that the companies that will ride the wave of recession and post pandemic pain points will be those that are planning to move to a distributed enterprise where not only will IT and business solutions be provided "As-A-Service," human resources, will be too!
Time-based models for supporting IT vendors and channel partners are increasingly being sought after as new hybrid business models evolve. By engaging with well trained and highly specialised individuals, companies can either back-fill existing vacancies, generate new high-quality opportunities or provide validation or nurturing support for existing opportunities.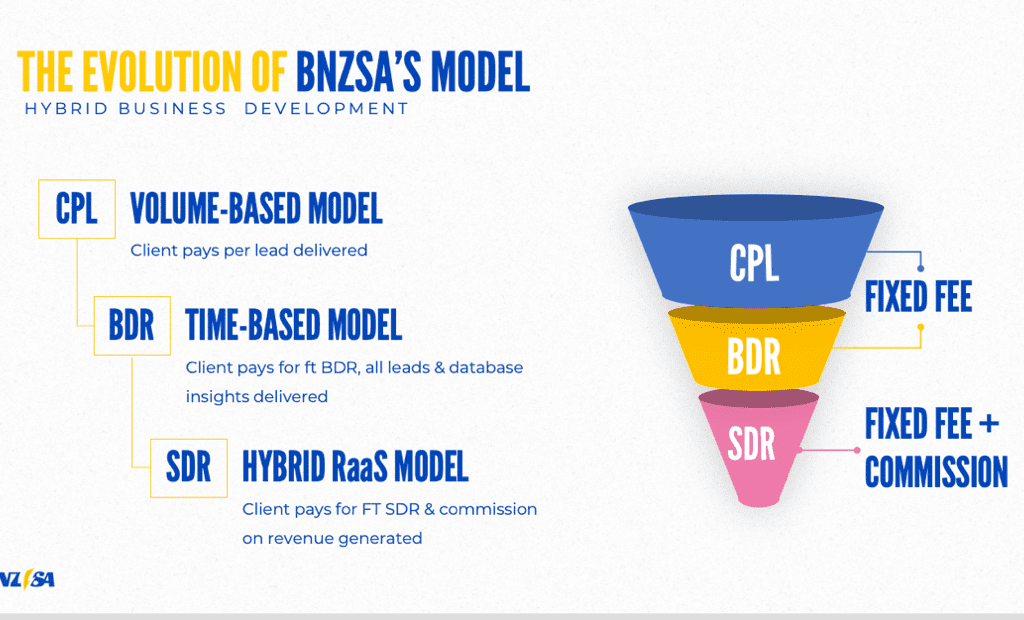 BNZSA is one such company that has evolved its business model to provide its clients time-based full-time BDRs and SDRs " Sales as-a-service". These resources work with clients in a number of ways for opportunity and closed won sales generation, in addition to its traditional CPL-based content syndication offering.
BDR-as-a-service: Time based Model
By engaging with a BNZSA BDR in a time-based model, clients only pay for the time of that BDR which is usually 20 days a month. The BDR can either use client data such as Target Account Lists to prospect from. These lists can be validated and enriched by BNZSA's Decision Science and Data science teams or BNZSA's own mixture of 1st party, 3rd party and intent data to create custom databases and audience segments.
The use of BNZSA's data services is included in the BDRs time-based fee at no extra cost. As the BDR works in a waterfall model, this allows for a deeper engagement with prospects. As well as producing 12-15 Warm HandoversTM per month, a BDRs also has approximately 5-15 interactions with decision makers on a daily basis generating:
Customer insights – conversations with ITDMs allow the BDR to gather valuable insights on purchasing cycles and buying committees.
Opt-ins – prospects that have been given consent to be sent more information via email.
MQLs – qualified opportunities that are expecting a follow up by a salesperson, but not necessarily ready to purchase.
A total of around 500 ITDMs contacts within a quarter.
Without recruitment fees to hire, or ongoing costs such as holiday and sick pay, the BDR can be trained by the client in the unique selling points of the product or service, understand who an ideal customer is and can work with the client on a script to ensure brand protection and management.
In some cases, the BDR can also use a client's email address and call on behalf of the client. With regular reporting and calls, the progress and pipeline of the BDR can be managed by the client and can complement existing internal teams rather than compete with them.
As well as backfilling resources and generating opportunities, BDRs can also be utilised to validate and recycle opportunities that have been generated by social media or digital content syndication activity. These opportunities may have either stalled or have been discarded because there is either too much volume or not enough time/resources to nurture the prospects into a more sales ready status.
As BNZSA's BDRs have native speaking support for 26 languages, companies that are looking to land and expand in new territories can also avail of instant support in these regions, which is also attractive for companies that are looking to IPO.
As BDRs can be throttled up or throttled back, clients can add additional resources or scale back depending on clients' requirements, leaving internal and channel teams to concentrate on existing customer needs as well as finding new ones.
SDR-"Sales-As-A-Service" model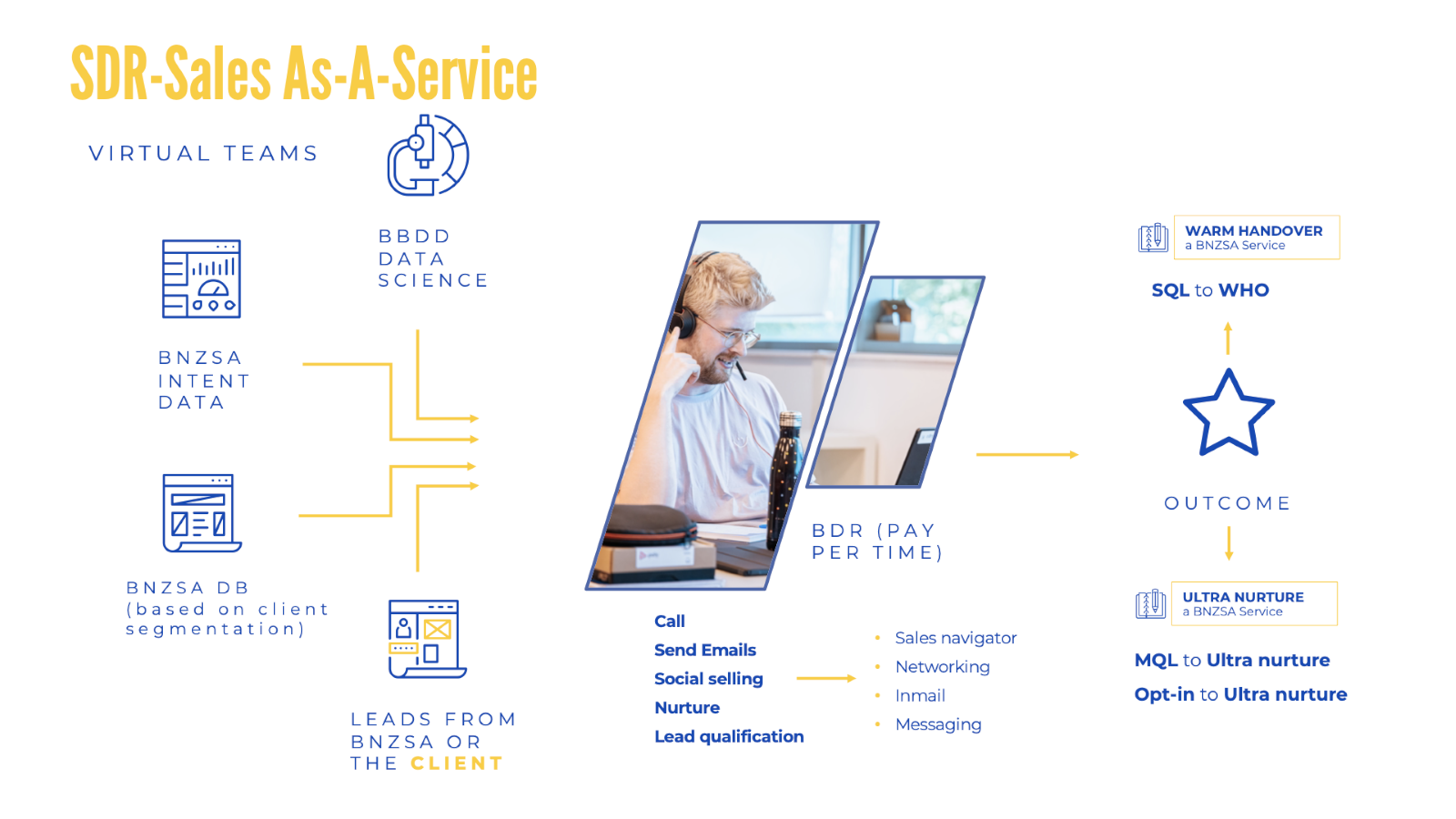 Similar to the BDR-as-a-service model, BNZSA has recently introduced a hybrid SDR- As-A-Service" model, where the SDR is effectively a full-time sales resource for the client. Essentially it is a "sales-as-a-service" offering, with a fixed fee and commission pricing structure.
Like the BDR model, the client only pays for the days the SDR works, has a client email, and calls on behalf of the client. However, the key difference between the two is that the SDR handles the entire sales cycle and is responsible for generating closed sales and revenue where the client agrees a commission structure to create a strategic partnership.
Like an FTE sales resource, the SDR handles PO, payments and all details required to enter a contract. Between the client and BNZSA, the SDR is incentivised for bigger value, high volume sales and facilitates a deeper nurture of the opportunity through the whole funnel. As well as access to BNZSA's data and decision science team, the SDR fixed fee also includes additional sales support and resources such as sales managers and project managers.
Like an FTE sales resource, BNZSA's SDR will, in concert with the client's own model, earn commission on closed won sales, but unlike many internal FTEs not in the first three months of engagement if there are no closed won sales. And due to BNZSA's industrialised internal training programmes, there is a shorter ramp up time to get SDRs up to speed and closing sales, but like the above BDR model, there are not the extra costs in recruitment fees, training, holiday pay, sick pay, pensions, technology, software licence fees or tax.
And like the BDR model, BNZSA's SDRs can support 26 languages with native speakers that allows clients to instantly ramp up in new territories, achieve a lower cost of sale and see quick, sustainable, and measurable ROI to investment.
In short, BNZSA wants to offer its clients a strategic partnership that works because its client's success is BNZSA's success. 
BNZSA Spotlight