In parts one and two of our ABM series, we discussed what is needed for a successful ABM strategy and what value it can bring to your pipeline generation efforts. In this third and finally installment, we will lay out how Opportunity Finder can optimise your ABM strategy to land your messaging, convert your target audience, and generate valuable revenue.

Enrich:
For successful ABM it all starts with Data. Companies often struggle with siloed, inconsistent, and incomplete data. BNZSAs Decision Science and Data science teams can help find those missing notes on the score, verify existing data using our Lead Verifyr service and fill in the white space in spreadsheets of missing information to enrich data sets.  
 
BNZSA can also blend and optimize its own first party with third-party data, intent data, firmographic data and technographic data to create unique audience segments and stack ranked ideal customer profiles (ICPs) without having to wait for a prospect to interact with a website1 or click on an asset.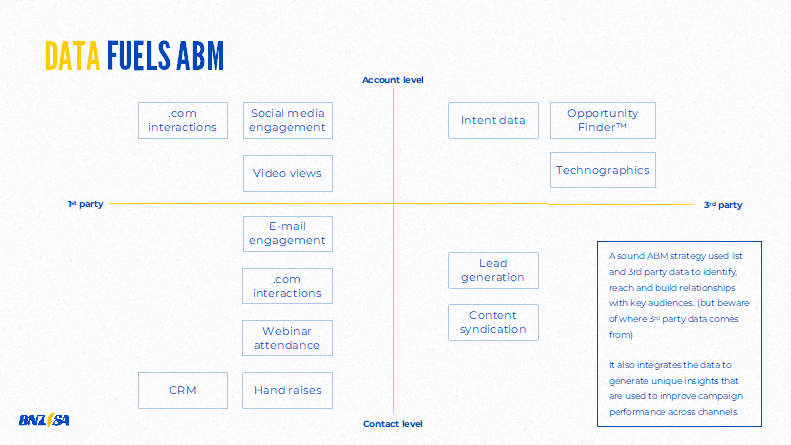 Find:
If there is a lot of data that is old and potentially inaccurate, companies can utilize BNZSA's ContactFindr service to discover the influencers and decision makers at ICP TALs.

ContactFindr aims to reduce the time involved in trawling through platforms like LinkedIn Sales Navigator and other similar resources so our clients can target the right people at the right time with the right message on multiple platforms.

This service is supported by BNZSA data researchers who complete contact records manually using different sources & platforms and gain GDPR consent.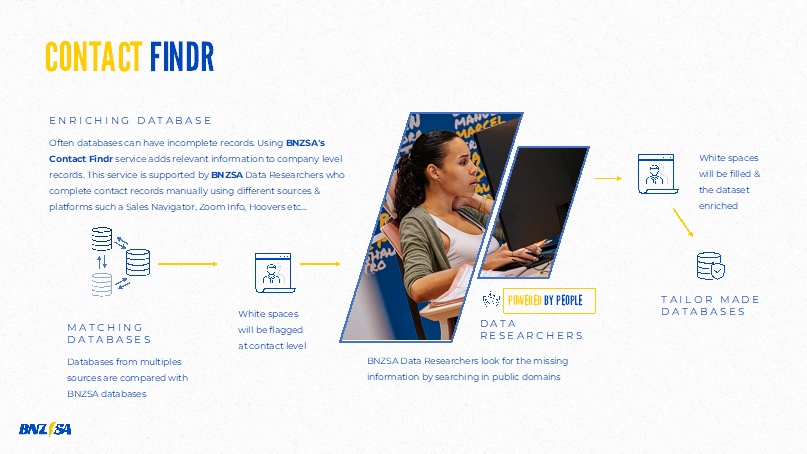 Ignite:
By utilising social, programmatic, and digital engagement, BNZSA's clients can ensure that every single decision maker in its ideal audience segments is aware of its brand, products and services or thought leadership on certain key topics, even if they're not yet in-market.

BNZSA's segmentation tools enables the ability to target programmatically by job function for the most cost-effective use of our client's display advertising budget.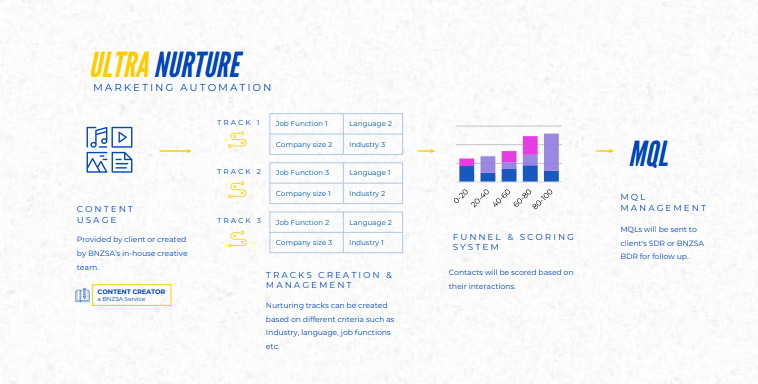 Engage:
Increasingly, BNZSA's clients do not have the time or resources to nurture-up top of the funnel opportunities and prefer to concentrate on opportunities that are more sales ready and closer to closing. By implementing BNZSA's BDR time-based model, clients can supplement existing BDR and sales teams with highly trained BNZSA agents using a cost per time-based model.

Benefits of using this model for ABM are as follows:
More in-depth campaigns
Native language support up to 26 languages
Deeper conversations with DMs on the Target Account list
Identify key DMs and organization structure
Understand challenges faced, build trust
Align prospect's needs with client's capabilities
Call to action – Warm HandoverTM set up with client Sales Rep when timing is right
BNZSA's Warm HandoverTM is a three-way video call between a BDR, a client's sales rep and the prospective customer. The BNZSA BDR is responsible for identifying and qualifying the lead, securing and scheduling the meeting, and ensuring that the sales rep has all the information they need to help close the deal. Conversion rates can improve by up to 300 per cent compared with traditional BANT2 content syndication.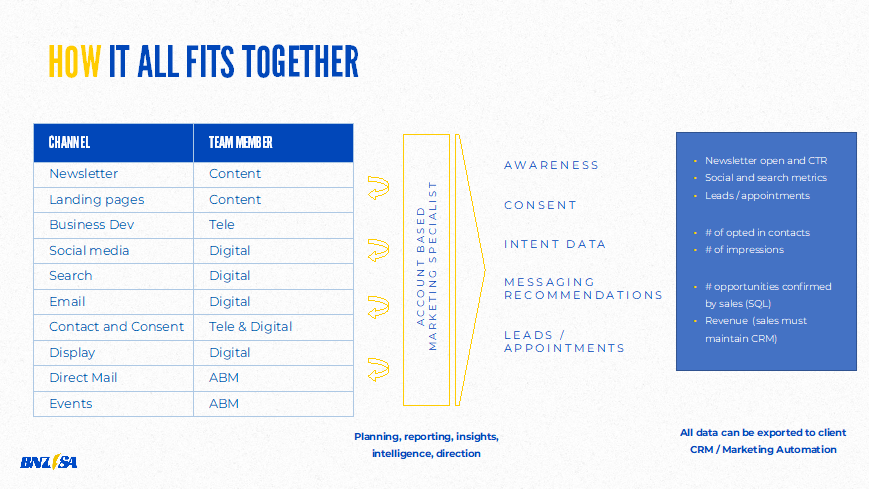 Close:
Taking the time-based model to the next level, BNZSA also offers its clients' Sales Development Resources SDRs as-a-service that handle the entire sales cycle generating closed sales and revenue. They can use the clients' email address, hold regular pipeline calls and be responsible for an agreed sales target.
More cost effective than hiring full time employees.
Complete sales cycle.
Has additional AM and PM support at no extra charge.
SDR handles PO, payments and all details required for contract.
SDR incentivized for bigger value, higher volume sales.
Deeper nurture through the whole funnel.
Fixed fee includes additional sales support and resources – Sales Managers, Project Managers.
Commission structure creates strategic partnership – Client's success is also BNZSA's success.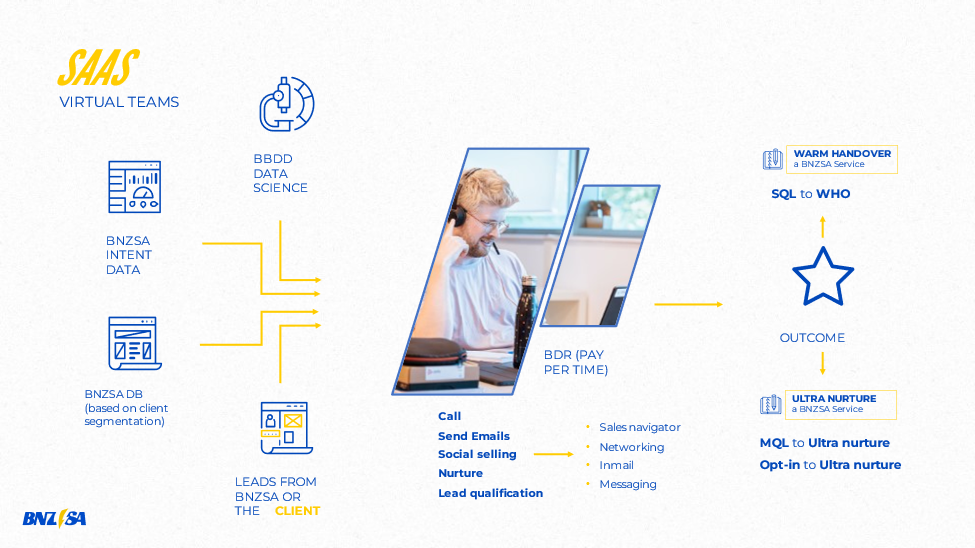 Conclusion:
Account Based Marketing (ABM) is an effective approach to engaging potential customers at the right time and with the right content. However, it requires an all-in approach that integrates marketing and sales operations with clear stakeholder alignment and a shared go-to-market strategy. Despite the challenges, ABM promises to provide companies with the ability to engage with customers earlier, identify buying committees within target accounts, and deliver relevant content.
Opportunity Finder can help companies optimise their ABM strategy by enriching first and third-party data, harmonising automation technology, and providing guidance on segmenting tactics, creating personalised content, and building strong relationships with target accounts. Ultimately, ABM is about building long-term relationships with potential customers that drive growth, customer loyalty, and measurable returns on sales and marketing investment.
---
[1] Across the B2B landscape Website conversion rates (# of Inbound Leads ÷ Total # of Website Visitors) are around 2%
[2] BNZA analysed more than 16,000 Content Syndication Leads supplied by 3rd parties for two major SaaS companies