First, we had the pandemic. Second, we had the great resignation and quietly quitting and more recently we have seen swathes of layoffs in the Tech Industry that started in Q4 last year and has added another 170K to the disturbing tally in Q1 this year, according to Layoffs.fyi
Unfortunately, this trend looks likely to continue in 2023 as the economy worsens through inflation, the fall in dominance of the petro-dollar[2] and other geopolitical factors that are putting unprecedented strains on energy bills, supply chains and the overall cost of living.
These above factors have contributed greatly to the number of vacancies for SDRs and BDRs in company sales forces or removal of roles for companies that need to downsize. This in turn is putting a lot of pressure on incumbent teams that are picking up the extra work left by vacating colleagues. Burn out across the board, is rife.
In fact, many industry watchers have noted in the last couple of years, sales staff are facing higher levels of burnout than ever before. In part due to high pressure to reach targets in an unpredictable market, this has led to voluntary sales departures reaching 67% in recent years. This causes an additional level of uncertainty when it comes to staff retention and return on the investment when sourcing talent.
And prospective employees and employers know this, with strong candidates currently having up to five offers from rival companies in their back pocket to strike the best deal.
But paying over the odds for a candidate that doesn't work out after their three-month probation can be even more costly for companies and the process of recruiting a replacement could take a further few months leaving the company without revenue or resource for a potential six months or more.
Even when a candidate looks likely to fit the bill, the overall package offered to a) beat the competition b) incentive the candidate such as points in the business, health membership, gym membership and the other hygiene factors like hybrid work- all add to the overall oncosts of that FTE. And we haven't even mentioned the costs of software licences, IT equipment for that person to do their work.
BDR and SDR Sales-as-a-Service
For all of the above reasons, BNZSA has introduced its Revenue or SDR-Sales-as-Service Model (SDR-SaaS) to help companies to maintain healthy resourcing levels to facilitate pipeline acceleration, backfill vacancies with temporary or longer term non-full-time employees, and to manage the entire sales process and contribute to a sales number and target.
Soft launched in late 2022, SDR-SaaS model builds on BNZSA's successful time based BDR model, where customers are billed on the time of the agent rather than a traditional cost-per-lead (CPL) basis.
Based on customer feedback, the BDR model was introduced to help our clients back fill existing teams due to unfilled vacancies or more cost-effective way to maintain staffing levels or to land and expand in new territories, thanks to BNZSA's 26 native language speaking capabilities.
With a BDR approach, BNZSA reps either calling from BNZSA on behalf of the client or as a white label service, can tailor each conversation to the account or individual and engage prospects in a conversation about their business, growth plans, challenges, and opportunities.
Each prospect is nurtured and 'account managed' so that even if they are not ready for a sales conversation at the time of call, we have an open door with them with consent and can re-engage at the right time.
When sales ready prospects are identified from nurtured tracks, they are invited to a three-way meeting called a Warm HandoverTM (WHO) with our client's sales rep.
As well as identifying potentially sales ready opportunities, BDR agents also make an average of 80-100 calls a day; send out 15-25 daily emails and 20-30 LinkedIN interactions and can perform other tasks such as verify leads that might have been generated via social media, for example. In all 20 days a month are dedicated to the client team.
Originally, many of our clients felt that supplementing existing teams with BNZSA BDRs would be a temporary measure until the economy picked up after Covid, but due to other geopolitical factors such as the energy crisis and resulting inflation, many of our clients were not only retaining and expanding levels of BDRs they were also asking if these BDRs could play an even greater role as a fully fledged SDR resource that can not only find sales ready leads, but also close them too! We said yes and the SDR-as-a-Service model was born with all the same benefits of a BDR but also revenue to agreed targets.
Total cost of ownership of sales resources
Using recruitment site Glassdoor data as a benchmark, we compared not just the basic salaries and OTE earnings with using our BDR and SDR agents as a service, but also calculated the total cost of ownership of overall compensation with all the oncosts associated with hiring a FTE BDR and SDR. The savings we calculated were significant.
First, we looked at a number of agency level jobs for account managers, that might be deployed in generating sales pipelines, we found an average salary from a number of posts for an entry level account manager role. Using the same methodology, we did the same for an enterprise sales resource at large IT software and hardware company and also for a large cloud supplier. We logged the average salary between a few companies. We also logged either the bonus or OTE commission level to the basic salary to arrive at a total for compensation compared with engaging with a BNZSA BDR or SDR.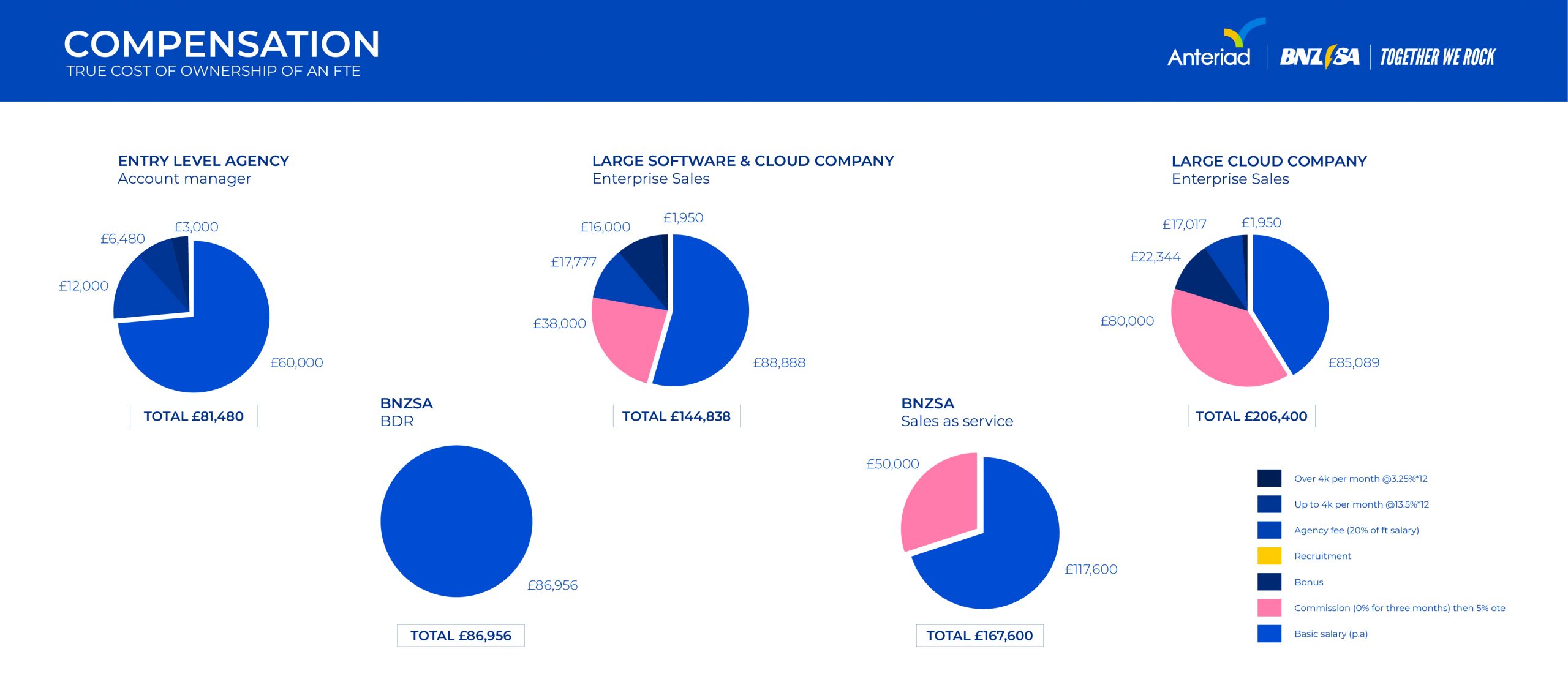 In terms of oncost assumptions:
We assumed especially in the current economic climate that recruitment agencies would be used to discover the best candidates
Local taxation and other taxes such as National insurance in the UK, were included.
Mandatory Pension schemes were applied in the calculations.
Holiday and Bank holiday pay were factored in.
Sick pay as above.
Life Assurance.
Disability (income protection).
Travel insurance.
Maternity and paternity leave.
For other hygiene considerations, we assumed that in order to attract the best candidates they would need to offer:
Medical and dental schemes
Discounted Gym memberships
Share schemes (after successful probation)
Bicycle and travel loans
Childcare vouchers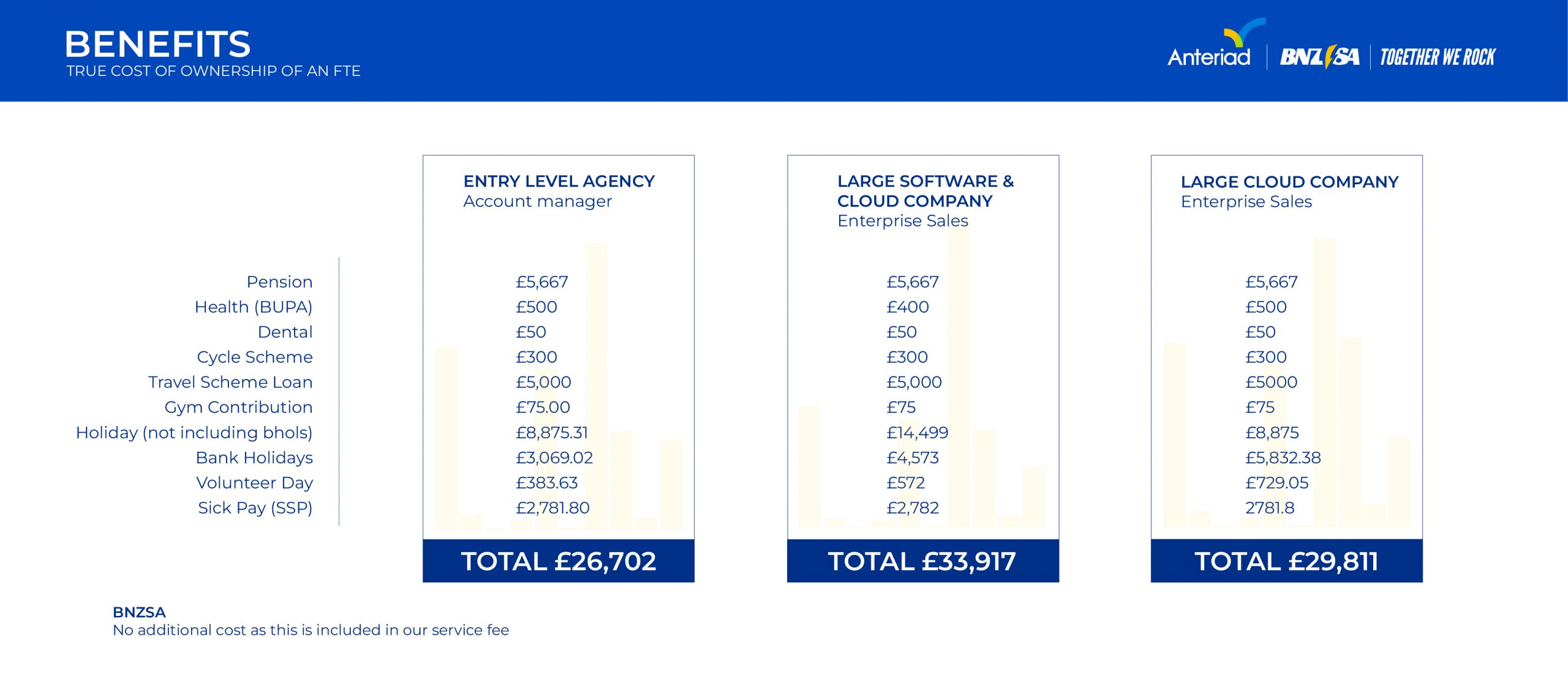 On top of these oncosts there are the actual equipment costs and software licences needed for the FTE to be able to perform their assigned duties such as physical IT hardware, laptops and phones and the various per seat licenses that come with accessing CRM systems and sales and data tools such as LinkedIn.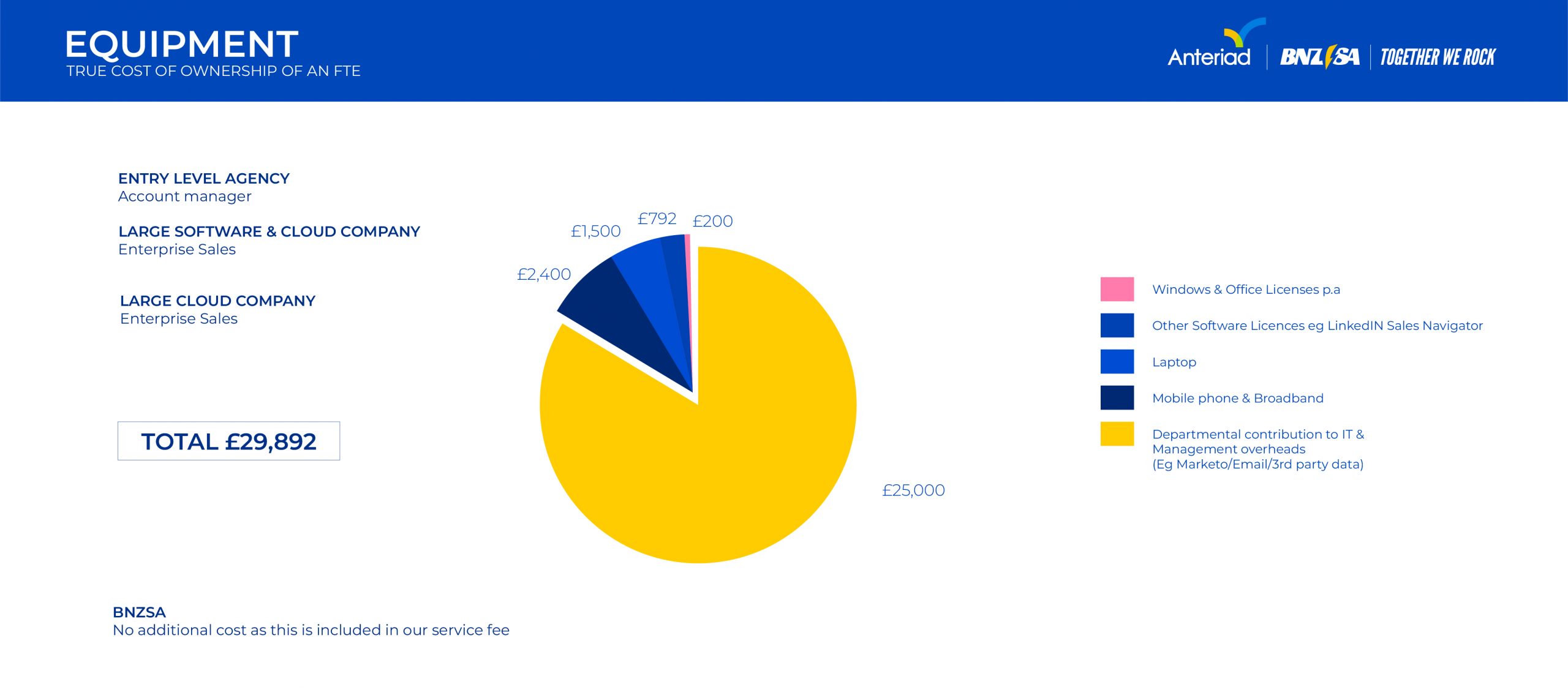 In addition to the cost savings, the SDR-SaaS representative is also tasked with a revenue number that doesn't kick in until after three months, so not only are there significant cost savings versus hiring an FTE, the SDR that can also receive specific training by the client can also contribute to the overall number and hopefully allow the client to ride the current storm and come out stronger on the other side.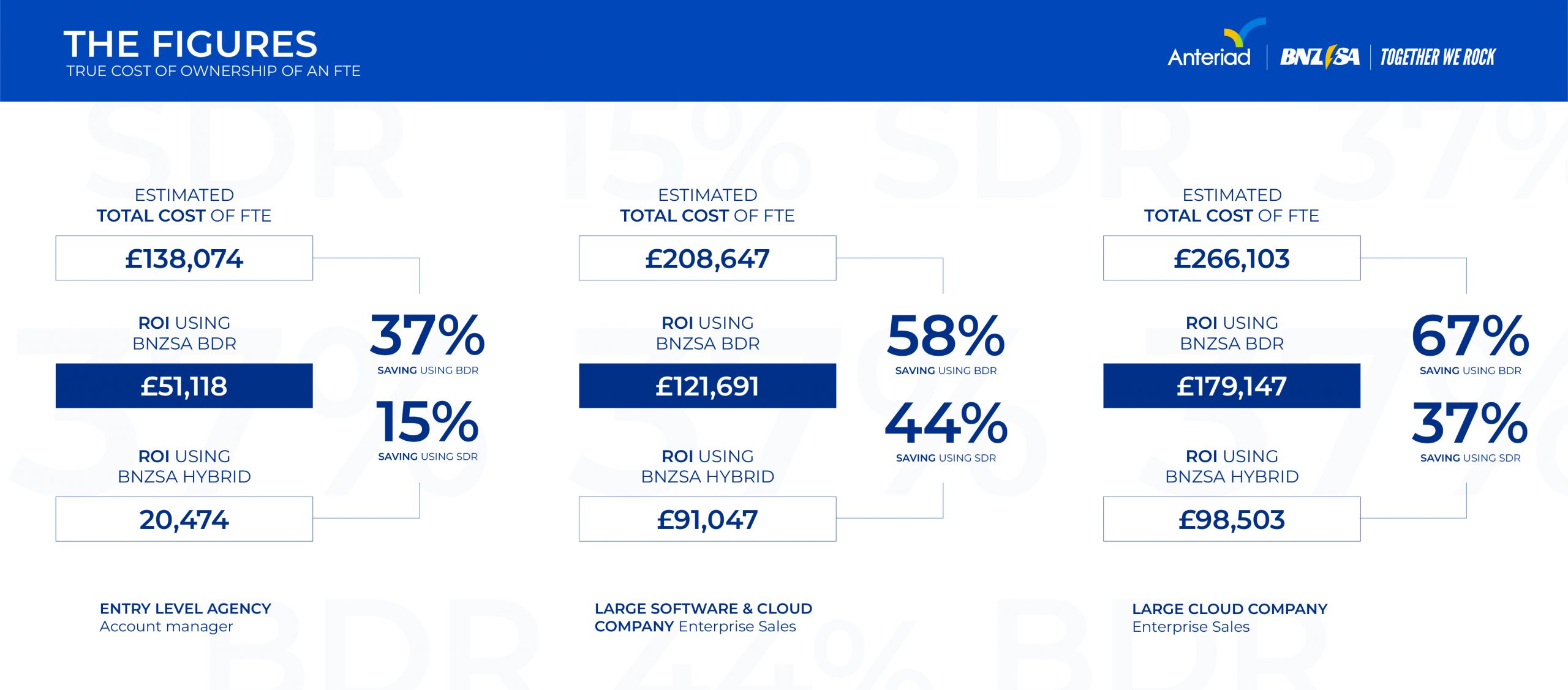 BNZSA Spotlight:
The tech industry is facing many challenges right now, from cutbacks, the looming threat of a downturn and recession, and mass lay-offs across the industry, naturally, leadership teams are looking for ways to optimise costs wherever they can.
Sales teams are crucial for businesses at a time of uncertainty to deliver a consistent revenue stream, but hiring and retaining the best talent is a costly investment.
"As-a-service models have become common place for IT and business solutions, human resources will also shift to this model to help companies overcome the challenges of recruiting during a recession.
True cost of ownership of an FTE:
Compensation: Between €70-200K
Equipment: circa €30K depending on equipment and licenses
Benefits: from €30K including mandatory pension scheme, paid holiday and sick leave
BDR-as-a-Service:
BNZSA BDRs work on a time-based model, where the client typically pays for 20 days a month depending on their needs. The use of BNZSA's data services is included in the BDRs time-based fee at no extra cost. As the BDR works in a waterfall model, this allows for a deeper engagement with prospects.
The BDR can be trained by the client in the unique selling points of the product or service, understand who an ideal customer is and can work with the client on a script to ensure brand protection and management.
SDR Sales-as-a-Service:
Like the BDR-as-a-service model, the SDR- As-A-Service" model provides an SDR who is effectively a full-time sales resource for the client. Essentially it is a "sales-as-a-service" offering, with a fixed fee and commission pricing structure.
The key difference between the BDR and SDR models is that the SDR handles the entire sales cycle, generating closed sales and revenue with an agreed commission structure to create a strategic partnership.
Total cost of ownership of BNZSA BDR or SDR:
Unlike the case of an FTE, by using BDR or SDR "Sales-as-a-Service", companies can eliminate the costs associated with equipment and benefits for sales staff and minimise the risk of a "bad hire", generating up 44% more ROI.
Additional reporting by Sinéad Conboy.
---
[1] Costs compared to a Full Time, Employee (FTE)
[2] Until recently oil was priced and bought exclusively in US dollars having a positive effect to that currency and subsequent economy.